Hello guys..
We are back to short story about our one day tour with young guy from Japan..
on 24th february 2020 was their last day in Bali. they take the chance to know abit about Ubud activities, chill out and swing. since their purpose in Bali was only for surfing.
they have been in Bali for one month and only for surfing. Mr. Akira Yamamoto is the their leader and guide for the other guy for doing surfing in Bali.
and then..they choose www.newbalitours.com to drive them to go to Ubud and tegallalang Tour.
We picked them up morning at 9 am in Seminyak Lagoon Hotel, and we drove straight away to Monkey forest. and thats why we could catch up a monkey to do selfie with us ( i know the selfie was not perfect)
and then we continue to Alas Harum Coffee and Plantation. they did swing..they enjoyed the coffee and Meal.
i took them too to enjoy the waterfall of Tegenungan. they were so active and cheerfull. we sang in the car. we talked dirty topic hahahaha..men is always be men.
And finished in the afternoon after that. because along the road was not so traffic so the journey was fine and so happy and not tiring.
hope they will remember me again someday to be their a companion.
the next day the were fly back to Japan. and i am sure they miss Bali already.
dont worry..you will be back again one day to Bali..i bet it.
????
caooo..!!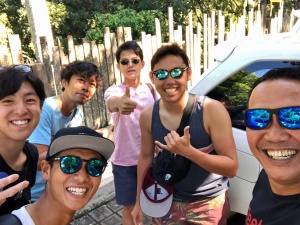 " ids="334,333,332″]
Contact Us
If you have any questions, please contact us.