Home
»
New bali tour: your no 1 best holiday assistant
The journey has begun
New Bali Tour for adventure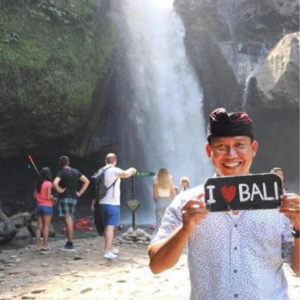 Hi!  Welcome to our website, my name is Dewa Nyoman Eka Wirawan, I am the founder of New Bali Tour.  Our tour company  has been operating since 2010, as a tour packages and holiday assistant in Denpasar – Bali.
The word "NEW" is actually a stand of my name "Nyoman Eka Wirawan", which has a symbolic meaning as a changing, challenge and opportunity. I hope that New Bali Tour can provide attractive services to customers.
The services of New Bali Tour 
The main service of our company is as a holiday assistant for people who are on vacation in Bali.  We provide several interesting tour packages in Bali for individuals, groups and families, at affordable prices.
The holiday activities we provide are as follows:
Sea and beach activities.

Nature and mountain activities.

Art and culture tour and activities.  

Spiritual tours and activities.
In addition to holiday activities, we also provide transportation services as follows:
Rent a car with a full time driver.

Shuttle transportation from/to the airport.
Message from the founder 
As the founder of tour company, I am personally pleased when I can help people as their holiday assistant.  I am ready to become a personal driver for tourists on vacation in Bali, and ensure that all activities run smoothly and are enjoyable.
Holiday assistant from Bali
I was born and raised in Denpasar – Bali, I am very interested in adventures such as hiking, diving and sea fishing.  "Life on the road" is my life motto, and this motto finally made me travel all the way to America.
After several years of extraordinary travel in America, I finally decided to return to Indonesia to make a tour company.  I love Bali and desire to introduce the culture, tradition, art and natural beauty of Bali to the outside world.
For this reason, I finally founded tour company, to serve tourists who want to have a vacation in Bali.  We will help them to have an interesting experience, from every hidden corner of Bali.
Diving instructor 
What's more, I also have a license as a diving instructor, who will be ready to accompany and teach those of you who want to learn diving.  I am happy to be your holiday assistant, while on vacation in Bali.
Please don't hesitate to contact our tour company for further informations.
Have a nice trip!!!
(New Bali Tour)
Our Office :
Jl. Mekar Jaya Block A9 No.1, Pemogan,
Denpasar Selatan – Indonesia.
Call / SMS : +6281-353-353-383
Mail Us : info@newbalitours.com
Contact Us
If you have any questions, please contact us.