Dear Happy people in the world,
We have nice offer for real tour in tourism places in north Bali you can reach some places below :
With paying only 550.000 / person,
Include with : Private Car + Petrol , + English speaking Driver , Entrance fee + Lunch .
JATI LUWIH RICE TERRACE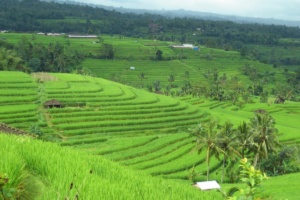 Heart of the Tabanan Regency in Bali,
the Jatiluwih rice fields have been named a UNESCO Cultural Landscape,
part of Bali's Subak System.
The vast expanses of terraced, green rice paddies are stepped along an entire mountain,
from its peak to where its foot meets the sea.
The fields that make up this area have adopted the traditional Subak irrigation system – a method that has been preserved for centuries and passed down from generation to generation. Aside from its agricultural development, this panoramic landscape has also established itself as a tourist destination and is among the top 10 visited places on the island.
ULUN DANU BERATAN TEMPLE
Pura Ulun Danu Bratan, or Pura Bratan, is a major Shivaite and water temple on Bali, Indonesia. The temple complex is located on the shores of Lake Bratan in the mountains near Bedugul. Water temples serve the entire region in the outflow area; downstream there are many smaller water temples that are specific to each irrigation association (subak).[1]
Built in 1663, this temple is used for offerings ceremony to the Balinese water, lake and river goddess Dewi Danu, due to the importance of Lake Bratan as a main source of irrigation in central Bali. The 11 stories of pelinggih meru dedicated for Shiva and his consort Parvathi.Buddha statue also present inside this temple.
Lake Bratan is known as the Lake of Holy Mountain due to the fertility of this area. Located 1200 m above sea level, it has a cold tropical climate.
GITGIT WATERFALL
is a waterfall on Bali, Indonesia. It is located on the north of the Southeast Asian island, not too far from Lovina and the old island capital Singaraja
. The falls are a popular tourist destination in Bali for the bridge walkway and cool water. The falls are located in Gitgit Village, Sukasada District, and about 10 kilometres (6.2 mi) from Singaraja Town, or about 70 kilometres (43 mi) fromDenpasar.
BANJAR HOT SPRING WATER
The sacred hot springs 'Air Panas' of Banjar are set in the midst of the jungle in a beautifully landscaped tropical garden, close to Lovina Beach, and it consist of three public and one private pool.
The sulphuric water is of volcanic origin and has an agreeable warm temperature of 37 degrees Celcius, ideal for people suffering from rheumatic diseases.
Contact Us
If you have any questions, please contact us.