Hi Bali adventure lovers ,
After kinda a long time there is not anything new on my blog, now..I come with an excited story.
We are with the group of Telkomsel Duta Dharma staff doing Rafting with Graha Rafting company on Saturday May 16th, 2015, exactly it was yesterday.
We start our journey in the morning. Gathering in one of my friend's house.
at 08.15 am when the participant complete and we ready to start the journey .
Arrive at Graha Rafting Meeting point , we welcomed by Ibu Ayu warmly and with veracious smile,
she is the owner and our new partner in tourism business .
We had a little cup of coffee , free and hot from the kettle. Filling out the insurance form, wear the rafting equipment like life guard jacket, rafting helmet and dont forget the paddle.
Our group uses 1 shuttle pickup car only, the pickup car is fix for 12 passangers and another 3 person in the front seat ( beside driver seat) , they were 2 of our guide and the shuttle car driver. ( I am sorry i forgot took the picture) . it tooks about 10 minutes driving from Graha meeting point.

Look at the  picture , we pass this rice field path (but pitty, the rice plants must be just finished harvested ) until we get until the river, it was take about 15 – 20 minutes walk down from this path until down to the river. The path was very steep.

Here we are..we finally touch the cold water. We pose before paddling the boat . Guide gave us briefing, inform us a litle bit knowledge about how to paddling, how to pull one side to the other side . How to hang on on the boat when we facing swift water with a lot of rocks. Guide said that we will on the river for 2 hours ( wow..that will be tiring, I grumble )
These are some of our pictures on the river. We didn't take the picture when we had wild water . We can see how beautiful the river, along the river  we flanked by the high cliff with variety of trees. We had so much fun.
Any way , thank you for taking this picture hubby ( Dewa )

After about 1 hour paddling, we stop at water fall, let the water drop hardly to our back, if we did it without life guard jacket, it must be very hurt because the water fall dropped was a quite big volume.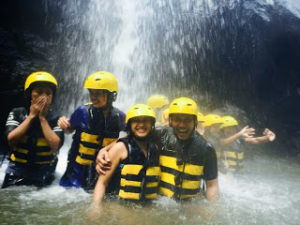 We continue to paddle, after took some photos in the water fall and we stop again for had some drinks (dont be surprise that we can buy pop mie and some can drinks here ),
local woman sell some drinks which is the price hm…a little bit expensive
(of course since they sell it in the wild river)
hey look, I jumped meanwhile the man behind me scared and doubt to jump.
Finnally we finished it and stop at Graha Rafting point, we walk up to the shuttle point,
but it was only 10 minutes and the path also not as steep as path when we walk down to the river.
We return to Graha Rafting Meeting point , 2 hours paddling made me hunger and thirsty. Complimentary some meal and drinks are prepared by Graha Rafting. So I dont wait..before took a shower, we had meal firstly.
Big thanks to Ibu Ayu for the good service.
Driving back to Denpasar in a hour.
Today is so fun.
Have a nice day :*

Contact Us
If you have any questions, please contact us.